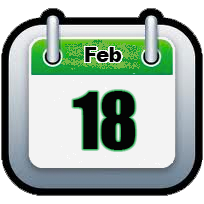 I pledge allegiance to the flag of the United States of America And to the Republic for which it stands One nation, under God Indivisible with liberty and justice for all
Seniors, if you are wanting a senior dedication ad in this year's yearbook, time is ticking away and the deadline is approaching quickly. Have your senior add submitted and purchased before the end of February if you want your senior ad in this year's yearbook. Senior ads can be purchased from the school website and must be done so before the end of February.
Please support the Southwick family at the Hungry Greek on Sunday. The Ballantrae and Trinity restaurants will donate 20% of proceeds from food purchased. If you go, mention you are supporting the Southwick family.

ALLY HEYMANN
If you are interested in joining the Yearbook staff for next school year, please go by and see Mr. Webster to be placed on a list. You must see Mr. Webster if you are wanting to join next year's Yearbook staff. Mr. Webster is in room 4-136.