Happiest Place on Earth Even with Masks – Julianna Manes
Julianna Manes is a senior at Sunlake High School. For obvious reasons, Summer 2020 fell very short of being one of the best times ever. With most places closed or at limited capacity, it was hard for many students to make vacation plans with family and friends, but for Julianna, there was still one place that she knew the entire family would love: Walt Disney World. The "happiest place on Earth" opened back up in early July, placing new safety measures throughout all 4 parks. Upon going to Magic Kingdom, Julianna admitted that she "was a little worried about going, but once I saw all the safety precautions I immediately felt better." Some of these extra safety measures included socially distanced wait queues, cast members wearing masks plus face shields, and sanitizing rides on a regular basis.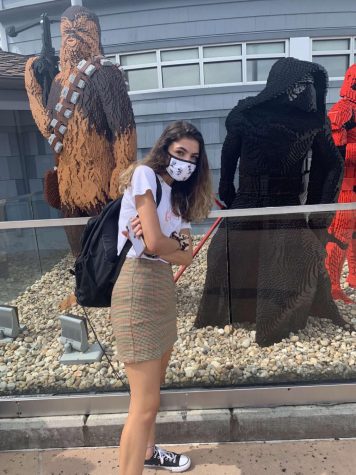 Throughout the summer, Julianna and her family, consisting of her older brother, mom, and dad, spent many days at the Disney parks. She says that one of the best things about going during limited capacity is that because visitors have to make park reservations, "the wait times are super short and there's more room to walk around." Compared to normal days at Disney, Julianna says that the experience at the parks is still as magical as usual and that the cast members still create those special moments for guests of all ages to be a part of. Something that she said was a struggle about going to the parks was that they required guests to only eat or drink if stationary, in which she explains that it
"was difficult to enjoy the Food & Wine Festival" that was taking place at Epcot.
Julianna gives gratitude toward the cast members at Disney World, saying "I don't think there's anything they could have changed! They're doing the most that they can to keep us safe, and it's still a super fun & enjoyable experience!" Even during these unforeseen times, Julianna spent a great second half of the summer with her family, in which she created many new memories and traditions that will last for years to come.