Sunlake's History Teachers
History is many Sunlake student's favorite class, intriguing them with complex stories, politics, religions, and social effects. Mr. Orr and Mr. Taylor are just two of Sunlake's teachers that ignite the love of history in their classrooms.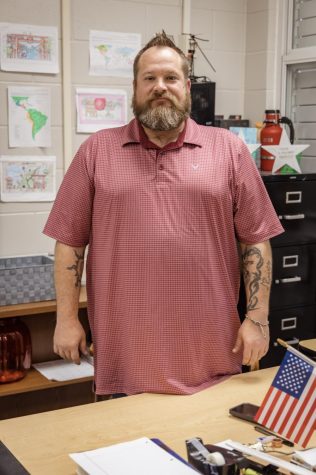 Mr. Orr teaches 10th grade "World History Honors—that's it." Last year, he taught regular World History as well. Talking about his inspiration to teach history, Mr. Orr told of his past job working at Apple. "When I worked at Apple, I didn't do anything for anybody, and I didn't like it. And teaching allows me to get back to being part of something. And I love history, so it is pretty easy." Adding onto his passion, he speaks about keeping his students engaged. "Everything is about good relationships with people. And if people can trust you that you're going to take care of them, they just kind of fall in line and do what they need to do. And like, I don't have any bad classes. At the end of the day, all history is, is storytelling. It's just like a specific story that you have to tell in whatever way. And so, history shouldn't be hard. It's a story. And as long as we know that story and we know it to be valid and true, then it's fun."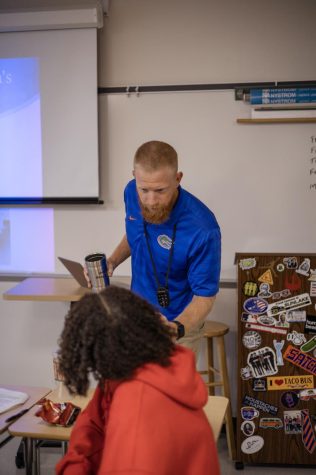 Mr. Taylor, often times known for his sarcasm and amazing teaching in 11th grade AP U.S. History and U.S. History Honors, told of his experiences teaching at Sunlake. When asked how long he has been teaching, he responded jokingly with "42 years… 42 years." At Sunlake, he has been teaching for "16 years, maybe 15, however old the school is." On the topic of keeping students engaged, he responded with, "Well, I try not to keep them engaged. I think they're too young to get married. It's a little much—they're not mature enough yet." In reality, he keeps his students interested in his class with his vivid storytelling, interesting facts here and there, fantastic sidenote life lessons, funny PowerPoint pictures, occasional conspiracy theories, and plans to steal ancient artifacts for extra credit. "Why my passion for history? It's just what I like. How did I become interested in history? So, when I was being raised in the jungles of Colombia, I was trained by a monkey that lived in the jungle. And the monkey often told me stories from his past, usually as an allegory for me to learn a new lesson. So, I think that because all of his allegories were from past experiences, that kind of spurred my interest in history. [He lived in the jungle] for 13 years—about from birth. And then the problem was that the tiger was coming into the jungle, so I had to leave, so the bear helped me out of there. The idea was that they had to get me out of there because I was not safe with the tiger there, you know?" Mr. Taylor plans on teaching "until I'm tired. So, usually teachers try to retire as soon as humanly possible, but I plan on continuing on until I can't go on anymore. Like I'm going to drop dead in the classroom, I think is the goal here."
Hopefully each student will have the opportunity to learn from either of these amazing teachers!