Counting Jeep – Mikel Garmendia
Many teens dream of being gifted a car on their sixteenth birthday. Like other students at Sunlake, senior Mikel Garmendia, was gifted his 1999 Jeep Wrangler Sahara when he turned sixteen. Finally being able to drive yourself to different places and not having to depend on your parents is the first step in gaining freedom, something teens look forward to for what feels like forever.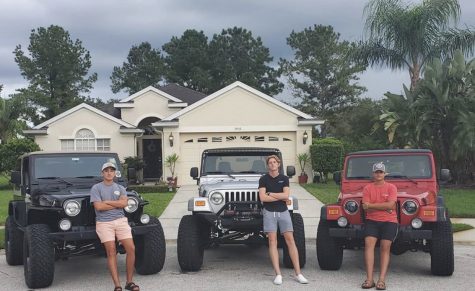 When asked how his life has differed after receiving a car, Garmendia answered with, "Having a car gave me a lot more freedom and created a new hobby for me to look forward to." Mikel can now go out with his friends on weekends or after school without having to depend on anyone for a ride. This has made his life as well as his parents lives easier as they were the ones who used to drive Mikel around.
Whether it's driving to work, school, or going to the beach with his friends, Mikel can always rely on his car to get the job done. He spends most of his days with his car and he even said, "I love the versatility of my car. It can go anywhere and do anything." Mikel loves to do many different and fun activities involving his car like mudding or even going off-road. He actually states that one of his favorite memories in his car, "would have to be the first time i went off-roading with my dad and brother at Jeepin' with Judd. It really showed the capabilities of my car and we all bonded and had a great time." Cars allow for more special memories to be made and for Mikel, those special memories often include spending time with his family. As he gets older and begins to start a new chapter in his life, Mikel makes sure to stay connected with the those who gifted him a key part of his future.