Life is What You Bake it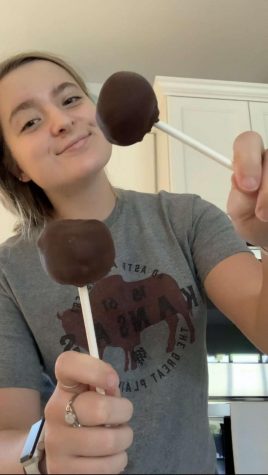 Besides school, many students at Sunlake like to occupy their time in various ways. For senior, Hannah Stuart, her hobby is baking. Food is the way to ones heart and is a fun way for Hannah to occupy the time she's not swamped with homework. When asked when and how she found her love for baking, Hannah answered with, "It was probably around 7th grade. My mom has always been a very crafty person and made all of the treats for my class on my birthday, so she was really my main source of inspiration. All of the parties she baked for really made me want to learn so my mom would let me help in whatever way I could." Hannah found her love for baking from a young age and ever since then, it has stuck with her. She's now 17 and baking has become a regular part of her daily routine.
Baking is not only limited to deserts but a wide variety of foods as well. Hannahs favorite thing to bake at the moment is, "Layer cakes. I like the intricacies of it and the final project is always the best part. Usually, I take my time when baking and end up spending hours in the kitchen in order to make sure the foods turn out the way I want them to." Most like to rush because they're more focused on getting the job done in the most efficient way rather than achieving the best quality possible, but this is not the case for Hannah. Even though more extravagant deserts are more fun to create, Hannah says, "My go to baking item is most definitely brownies because you can't go wrong. Brownies are a crowd favorite and they're super easy to make." Hannah is right, brownies always seem to be a favorite as they are a classic. Baking is a good distractor and something she really enjoys doing, it's definitely a hobby she won't be stopping anytime soon.