Diving into the Deep End
One of the most thrilling competitions of the Summer Olympics starts ten meters above the water. Every four years, viewers internationally watch all sorts of events, one of which being diving. From an outside perspective, diving appears to be a daunting sport; still, Blake Zevin – a junior at Sunlake – took the challenge on with stride. Just starting this year, Zevin says he has been diving for "…two months now." For starting so recently, Zevin has come far in his techniques and dives. Though the dives seem complex to observers, Zevin says the dives are not incredibly hard to learn. "As long as you trust yourself and trust what you're doing, it's going to be fine." This encouragement and bright team spirit could spur many young Seahawks to attempt the elegant moves.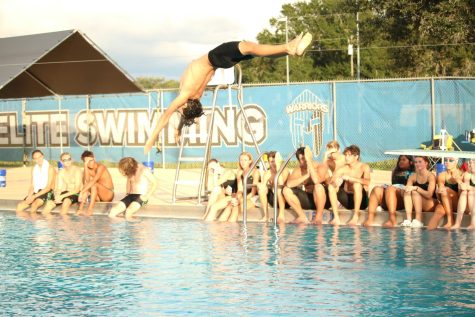 With all of the sports available at Sunlake, diving is relatively new and unknown. When asked how he was introduced to the sport, Zevin says he was "…just diving for fun and then [started] diving competitively"; as he started diving, Zevin discovered that it was something he really enjoyed. As the only diver on the Sunlake team, Zevin actually "…practice[s] with the Land O Lakes diving people." Still, he says, "I try to encourage people to join." To all the Seahawks who are considering trying the Dive Team, Zevin says "Just give it a try, learn the basic dives, and if you don't like it, it's alright." Some of the foundational dives include the forward, backward, inward, reverse, twist, and armstand dives. Joining our Sunlake swim and dive team is one of the best ways for a beginner to approach learning the new sport; having coaches and teammates to learn from and gain support is vital in every sport, especially one as intricate as diving. There is no harm in trying, but like Blake, you could discover diving is something you really enjoy and meet amazing teammates along the way.