Pumped up for Powderpuff
How the Freshmen Enjoyed Their First Homecoming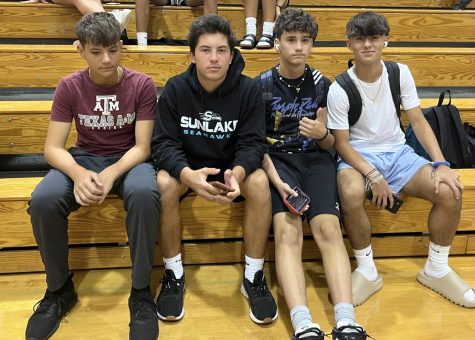 Music starts to play and a wave of silence passes over the crowd as their eyes lock on the nineteen freshmen boys in glittering pink shorts and cutoff T-shirts taking centerfield. This could only mean one thing: it's halftime at Powderpuff. Powderpuff is a tradition started in the 1970's that has expanded into an event students eagerly look forward to every year. Sunlake High School incorporates Powderpuff into their Homecoming week where the girls play football and the boys cheer in the halftime performance. For freshmen boys, participating in Powderpuff takes a lot of bravery. Freshman John Murphy was one of those very brave boys who decided to step up and put himself out there.
"It seemed like fun," John said. "I had a couple of my friends doing it." One of his friends that participated included Zeke Johnson who is pictured above.
John came from the Imagine School at Land O' Lakes just across the street and he plays football. He wasn't at all nervous for performing in front of a lot of people. "I like doing that stuff," he said. John was very committed to learning the cheers. He attended all but two of the practices held at the Bexley Clubhouse. When asked if the cheers were hard to learn, John said, "Not really, they were pretty simple." Powderpuff was held on the Sunlake football field and the halftime boys performed in the center of the field. The freshmen went first followed by the sophomores, juniors, and lastly the seniors. The freshmen got last place this year but their performance and the number that showed was pretty impressive.
"They were definitely better than ours," John said. "Ours was just a little mediocre." Despite the fact that they didn't win, the freshmen still enjoyed themselves. John said that he will participate next year. John's favorite part of Powderpuff was "having fun at the practices and hanging out with [his] friends."