What is Yoga Club All About?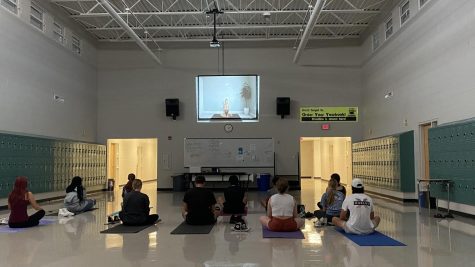 For a time to de-stress and relax right after school, students gather in the commons to take part in yoga club. It offers a variety of calm and relaxing activities for many of the members to partake in, which results in a more positive mindset for the students. The club organizer and president, Nicole Bouserhal, is the person who began to create this club because of how often she seen many of her classmates felt overwhelmed by the constant workload of school. She stated, "I knew I wanted to start a club this year [because] I constantly see my classmates and myself got stressed and overwhelmed from school so I thought yoga would be very beneficial to ease stress and overall improve mental health." Nicole wanted something that her classmates could look forward to after a long day of classes—an outlet for all to relax and calm their consciousness. Since the club has been active for over a month, with about 25 members, it continues to grow with many students each week as "…we're very welcoming of everyone so there are many other people who come and go as they please," Nicole stated. Distinguishable from other clubs, "…there aren't any specific roles, just the club organizer who sets things up…" Everyone is equal as this becomes fair for all the members since they won't feel divided or above everyone else.
Hosting or creating a club could be stressful for students since it could take time from family or friends or even hobbies they enjoy. Unlike Nicole, she stated, "I love being the organizer/instructor of the club. I do have to put in time after school, but it is worth it to see everyone come together and better themselves. It also is a fun outlet for me and seeing the appreciation from all the members makes it even better." This shows how responsible and worthy the yoga club's president is to be able to put in the effort, to ensure everyone is welcomed and seeing people having a good relationship with one other really radiates what yoga club is all about. Firstly, they organized a small meditation session in the beginning, to ensure the members be deeply in their conscience and "…this allows everyone to start their yoga with a clear mind." Next, "we then end our yoga with shavasana (meaning corpse posture) which consists of laying down on your back with your arms and legs spread a little bit and listening to meditation music. This pose is a great way to relax and just be one with your body. We do both of these to reduce stress and tension." Learning what they actually do in this club shows you how simple but delicate it is to master the art of yoga. This club is a great way for many students of Sunlake to be able to find their true self and to help them accomplish new beginnings.