Rockin' with the Soaring Sound
The Sunlake High School Marching Band
A sweet sound rings through the stadium as the teal uniforms and gleaming instruments take center field. All eyes are on the Sunlake Soaring Sound as they perform. Among those band students are Juniors Jordan Torres and Leonard Peebles.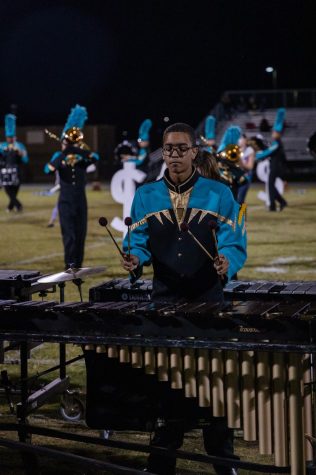 "I joined band in middle school," Jordan says. "Not as a first choice but I stayed in it because I really liked playing music and I really like the people in band."
Jordan plays the marimba which is part of the percussion section. The marimba is a deep toned xylophone.
"I like that it's musical," Jordan says of the marimba. "In other instruments in percussion, like drums, there isn't  melody to it but I like the marimba and other mallet instruments because of the melody and the different notes you can play."
Jordan has been playing the marimba for two years. He started in his freshmen year. Fellow junior, Leonard Peebles plays the clarinet.
"To be honest, I kind of just thought it looked cool," Leonard says. "Back in middle school I played it so I was like, 'you know what? Might as well continue doing it' even though I played a bit of saxophone."
Marching band just recently had an MPA (Music Performance Assessment) at Pasco High School. In these annually held events, the band's musical performance is evaluated based on specific requirements. The band also competes in competitions.
"We do compete against other schools," Leonard said. "It's a competition, but it's more of us just having fun and seeing other bands perform."
"Our indoor percussion season is coming up soon," Jordan said. "We have a lot of competitions for that so yes, I am excited."
Both Jordan and Leonard aspire to continue with their instruments after high school.
"Depending on which college I go to," Leonard said. "If they have a marching band program, that would be awesome. If not, it's ok, but that is my main goal."
"Band is a really fun experience," Jordan said. "I like the people in band, I like playing music and that's why I want to keep doing it and maybe even make a career out of it."
"The program here, it's a lot like a family and I enjoy having everyone around me even if we're not in the same band course," Leonard said. "It feels like we take all of them and just put it into one thing whether it be wind ensemble; which is us playing our wind instruments, whether it be percussion,…whether it be color guard because even though they don't play instruments they are also part of the band we count them as part of the band."