Strongest Girls in Town
The Athletes behind Sunlake's Weightlifting Team
This past Friday, Sunlake's very own weightlifting team had an event at Leesburg. This was only their second big meet of the season. Senior Elena Kulubya said that she was both nervous and excited explaining that, "I am both. I am always super excited, but I'm always nervous. I go into everything nervous. I think it kind of makes me better in the end." Elena started weightlifting the summer of her freshman year originally as a way to get stronger for track.
"Originally I did weightlifting because I wanted to get faster and stronger for track season," Elena said. "But I ended up falling in love with the sport and getting really good at it."
Fellow senior Nicole Bouserhal also started weightlifting her freshman year.
"The environment we have is very uplifting and fun," Nicole said. "Even if you're having a bad day, everyone is just so supportive here."
Weightlifting events have three different lifts: the snatch, the clean and jerk, and bench.
"First you start with the snatch," Elena said. "The snatch is an olympic lift, it's a wide grip. They call out numbers and if that's your number you go to a little platform and you do your lift."
Many high schools were going to participate in this event, including Pasco, Zephryhills, and Leesburg. Elena and Nicole both had similar views on the events.
"They're pretty competitive," Nicole said. "Especially with the people doing the heaviest weights in the weight class it gets really competitive because you're always looking at what they're doing and how much weight you should put up and obviously at the end of the day you just want to do your best but you still are competing because you still want to earn points for your team."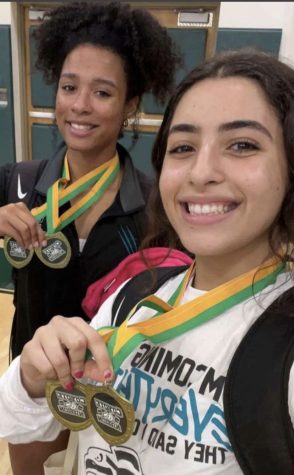 Another member of the weightlifting team who wasn't going to the weightlifting event, Junior Sarah Clark had a different point of view on competition level of the events.
"They're definitely competitive, but it's more of a personal competition," Sarah said. "You're more competitive with yourself and just the others around you and just everyone is friendly with each other."
All three girls enjoy weightlifting because it makes them stronger.
"I just love getting stronger and bettering myself," Elena said. "Just seeing how I can push my body past certain limits. I think it's awesome."
"I like the thrill I get from it," Sarah said. "The adrenaline running is a lot of fun and I also love hitting PRs [Personal Records]. It just makes me feel really good."
There's no doubt about it that these girls work hard as a team. They're supportive to one another and they build a great environment.