A Very Magical Thanksgiving
How One Freshman Celebrated Thanksgiving With Her Family
Many Americans imagine Thanksgiving dinner as the traditional meal of turkey, stuffing, cranberry sauce, and pie with their families. This year freshman Naomi Lammers and her family decided to do something fun and unique for this national holiday.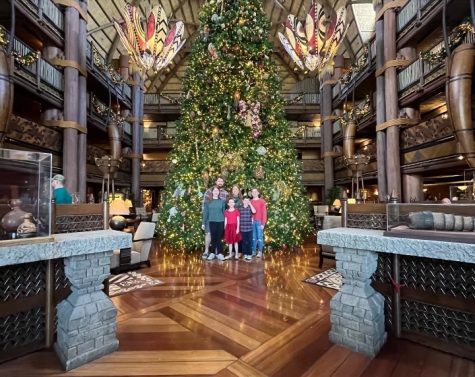 "We were at Disney for Thanksgiving," Naomi said. "I was there with my aunt and my grandma and my great grandma and some of my cousins."
Naomi's family enjoyed more than just Thanksgiving dinner at the most magical place on Earth. "We looked at the Christmas trees and the gingerbread houses," Naomi said. "I really like the Yacht and Beach Club one because it looks like a carousel."
Naomi's family loves looking at gingerbread houses at this time of year. "It's so pretty and we love doing that. We almost always go look at gingerbread houses," Naomi said. "Not on Thanksgiving but over break or something."
After adventuring to different Disney resorts to see Christmas trees and gingerbread houses, Naomi and her family enjoyed the Thanksgiving tradition of a big meal. "We went to the Yacht and Beach Club and we ate at Cape May and it was a buffet," Naomi said. "My grandpa got crab and we got to eat like so much crab, it was so good."
Naomi said she had "a lot of fun" at Disney. "One good thing about eating Thanksgiving at a resort is you don't have to worry about dishes," Naomi said. "Which is my job, so that's good."
Whether you're dining at a Disney buffet or just enjoying a quiet meal at home Thanksgiving is a time to spend with your family and friends. It reminds us how important it is to be grateful for what you have, and the food is good too!