That's "Light Weight"
Sunlake High School's girls weightlifting team hosted a meet on November 15th, 2022. Sunlake High School, Wesley Chapel High School, and Pasco Highschool competed for first place in the meet. Sunlake ended up receiving their hard earned first place trophy. Elephteria Somerville, a sophomore at Sunlake High School joined the weightlifting team for the first time this year. Ella says she decided to join because "I love working out, I wanted to get stronger, and I knew it was a great community to build new friendships." Her favorite thing about being on the team "is the community, everyone is so encouraging and kind, and I feel I have grown closer with so many of the girls on the team." She also says that what she loved most about this meet was "meeting new people from other schools, encouraging my teammates, and getting new personal record's." Ella hopes to continue her career on the Sunlake weightlifting team as she moves through high school, and to continue to improve physically.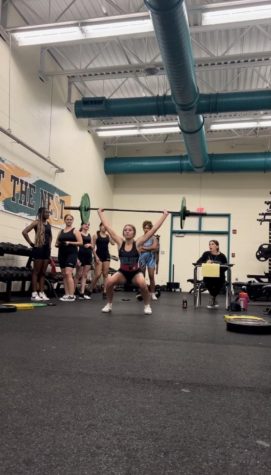 Jennifer Estrada, a junior at Sunlake Highschool also competed in this week's weightlifting meet. Jen loves to compete because she says "I enjoy being with my team and also seeing people lifting and hitting PR's. [It] truly makes me happy." If she could describe the team to anyone reading, Jen would say, "we are a family. We are always there for each other and always make each other push every day, even on our bad days." Jen started weightlifting her freshmen year. When asked what made her get into the sport, she said "my sister Tania. She was a senior when I was a freshman and she helped me open up to the sport, and now it's my main and favorite sport." Jenifer, along with the rest of the team, is eager to qualify for the states competition. Her main goal is "to hit 135 for bench and 125 for clean and jerk.