ASL? LOVE-IT!
There are countless Honor Societies at Sunlake High school that allow students to further delve into subjects that they love. One of these is ASL Honor Society.
"I decided to join the ASL Honor Society to not only be involved  in another club but also to gain more signing experience," said Junior Lauren Hallauer. "Since we aren't allowed to talk, it is a great way to improve my signing skills in a fun way!"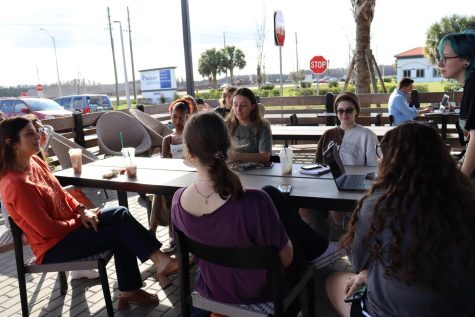 ASL Honor Society is run by the ASL teachers: Ms. Heymann and Ms. Monson. Their most recent meeting was held at Starbucks, and they got to enjoy delicious drinks while deciding on upcoming events.
"I like being a part of the ASL honor society because it is a great way to connect with other people in a unique way," said Lauren. "It's a lot of fun being able to sign with everybody!"
ASL isn't the only language course offered at Sunlake High School and many colleges look for at least two years of a language other than English. Other courses include French and Spanish.
"There are many benefits to learning a second language," Lauren said. "It's always helpful if a situation was ever to arise where I needed to communicate with a Deaf person. Whether it is at a job, or just wanting to socialize!"