Sunlake's Afterschool Weightlifting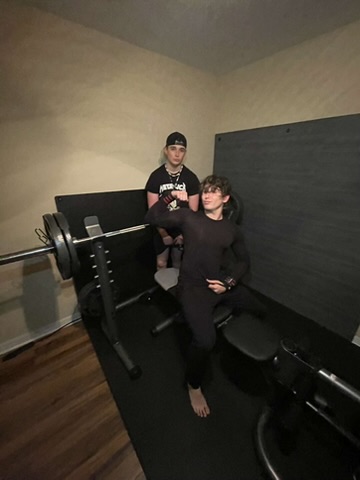 Sunlake has many students with different talents and hobbies that keep them occupied. Sure, schoolwork certainly takes time out of the day, but what do students do when their homework is finished?
One activity that Juniors Koen Devenny and Bryant Pollard choose to do in their spare time is weight lifting. "I lift outside of school as well as for the Sunlake weightlifting team" Koen explains. As for why lifting is important to him, Koen said "it is an outlet to put any negativity in my life towards." Koen also said lifting allows him to clear his head, have fun, and be himself with his friends.
Koen has been lifting weights for over a year, and he plans to continue, saying, "hopefully I'll have a future in powerlifting one day." Koen also said, "I encourage anyone to take on any type of weightlifting, whether it's Olympic lifting, bodybuilding, powerlifting, or any other branch because it gives you something to care about." Finally, adding on that, "Once you start seeing progress, you won't want to stop and you'll feel so much better about yourself."
Koen's friend Bryant also lifts weights. Bryant, who has also been lifting weights for over a year, said weightlifting is important to him because "it keeps me healthy and creates a sense of purpose." Bryant said he thinks others should also consider weightlifting "due to the health aspect and how it can help you lose weight."
Lifting weights is just one example of the many unique activities that our students here at Sunlake take part in after school. From extracurricular activities to simple hobbies done at home, our students certainly have many ways of entertaining and bettering themselves once the final school bell rings for the day.