The Jack of Jacks. Feat. Kasaria Hicks
For most, when you think of freshmen you'd think of those "starting a new" year. Not quite middle school, but not quite young adult. You're getting a sense of your surroundings while fantasizing about your glorious senior year. Though as the word "most" entails, there's a few who squeak by this view. Freshman Kasaria Hicks tells us about her lengthy list of passions and pastimes.
Kasaria mentions that she'd tried a go at Publix, but much prefers her current work. She has taken up babysitting professionally saying, "Whenever I get called, I'll see if I'm available, and then I just go and I get paid." She notes one particular customer and recounts, "I babysit this one girl, her name is Maddie. She's three years old and every time she calls me 'cousin' because she doesn't know how to pronounce my name. So, she's like, 'Cousin! Cousin!'" She also mentions her love of organizing and planning. "I always plan for my sister's birthday parties and events and everything. So, my dad thinks I should be a wedding planner!" After a moment of thought, she rationalizes her likes to her natural leader instincts, stating, "I've always liked being in charge. I like… keeping things in order, and I like running off of my schedule."
What about hobbies? Of course for work you'd be busy, however Kasaria's can-do attitude also shines here as well. "I just have to stay busy. And I'm very athletic too. Last year, Monday through Friday I would always go to CrossFit with my dad but then I stopped and started going to Mauyhai for about 6 months. But then, ya' know, my dad's always like, 'oh, these gas prices blah blah blah…' and so we had to stop. And then once I started high school, I joined the weightlifting team because my friend introduced it to me, and I ended up becoming varsity!" Further noting, "I also love swimming, but I can't swim that well."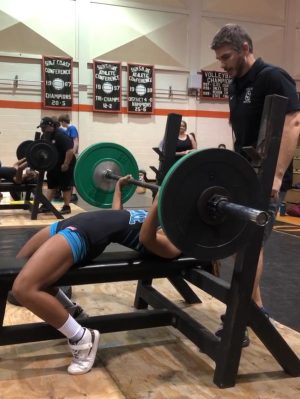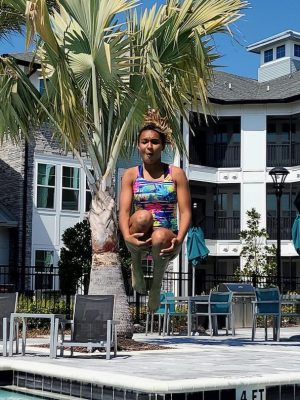 She then talks about her artsy side, saying, "I'm not good at drawing, but anytime I hit the paper I'm drawing a bunch of flowers and trees. One time I'll do a fairy or another time I'll do an alicorn—all the craziest stuff. I don't draw very often, but when I do, I don't think it's that bad." And once more, taking another turn, she states, "I've been traveling, and I want to travel when I grow up because I want to go to Hawaii. That's where I was born, but I don't remember it." Lastly, she says "And if I have nothing to do then I bake—I forgot to tell you I bake!" And all this, and more, is from one person. Though, Kasaria isn't an estranged role model from a fancy, far away country or anything like that, she's a student here at Sunlake. Albeit, a truly inspiring student!
Concluding the interview she tells us, "I guess I get it [her extremely active lifestyle] from my parents because my dad is always the active one and my mother—well, my mother actually passed away when I was two. She died of a rare disease—toxic epidermal necrolysis—but she was very active; she was a track star. Home is like, there's nothing to do and so at home I don't feel free. I feel like when I'm weightlifting, when I'm swimming, when I'm babysitting, I get to be me."