Senior Expectations – Chase Brownell
Annie Le, Photographer
September 14, 2020
At the end of sophomore year, Chase Brownell was challenged with a very serious back injury. This injury cost him his entire junior season. Coming back to the game with new policies and major changes would affect many player's mindset and passion towards the game, but not Chase. He says, "My mindset is still going to be the same this year. Go out and set myself apart from everyone else.".  With so much uncertainty for the new season, Chase uses that as motivation for this season. "To think that this may be my last year just drives me to work even harder this year and help this team reach it's full potential." exclaimed Chase.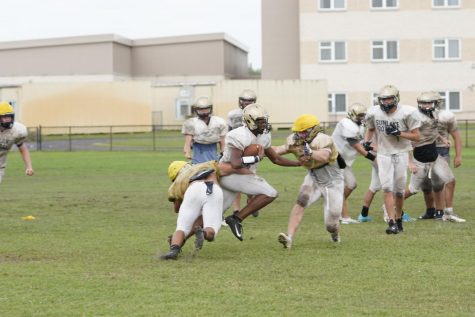 Although Chase's mindset is still the same for the season and he is motivated as ever, there is one thing that is different for him this season. He explains, "One way I have changed my approach this year is my number from 19 to 4." Chase says the reason for this change is, "I am dedicating this season to my cousin that would have been 4 this year."
According to Chase, we can also expect a change in the team. He explains, "One thing I'm most excited for this season is the chemistry I believe is present within the team this year. Last year we were individualistic but this year we could have a chance to be great." Many other players can agree with Chase's statement.
With high hopes for the season, Chase, along with the rest of Sunlake football, is stepping on to the field this Friday for the first game of the season against the Wesley Chapel wildcats. Not knowing the outcome for the rest of the season will motivate and make them work harder than ever before.