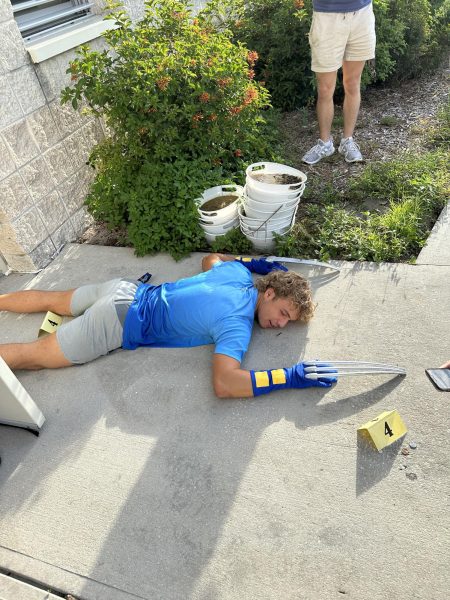 Meet Mario Perez, a junior at Sunlake High School who recently found himself caught up in an unexpected adventure during a forensics science experiment. It was all about investigation and gathering evidence from their surroundings, and Mario was right at the center of the action. This experiment had students pursue the world of investigation and evidence collection, Mario was cast as the "dead body" lying on the ground, essentially playing a pivotal role in recreating a murder scene. 
The main purpose of the experiment was to teach students how to look for evidence at a crime scene and write about it. Students had to set up everything like a real crime scene. The evidence found during the project were some coins, a shoe, and a body. We learned how to take proper photos of evidence for the project, capturing every detail. They had to number each piece of evidence to organize the documentation.  When asked about it, Mario admitted that he had fun. His favorite part was "…laying on the ground and having everyone take pictures." It was a unique twist to the typical classroom routine, and it added an unexpected element of enjoyment to the learning process. 
Mario is genuinely "…looking forward to more assignments like this." This experience served as a reminder that school isn't always limited to textbooks and lectures; the most engaging classes happen in surprising ways. It's not every day that school assignments turn out to be this fun, but this experiment proved that school can have it's enjoyable moments.