Stepping Into School With Confidence – Alfonso Guerrero
With all of the time on our hands earlier this year, finding and expressing yourself has been the focus for most of Sunlake's students. One being Alfonso Guerrero, a senior this year at Sunlake High School. I asked how his style had changed over the past couple months to which he responded, "I think the past couple months have been everything I needed to grow more into my style and express myself how I want to."
"I think when you finally get past the thoughts of what everyone else might think or say of you and start to walk with confidence and you hold your head up higher, it's one of the best feelings knowing that you have successfully overcome what has been holding you back from wearing what you've always wanted to." Says Guerrero.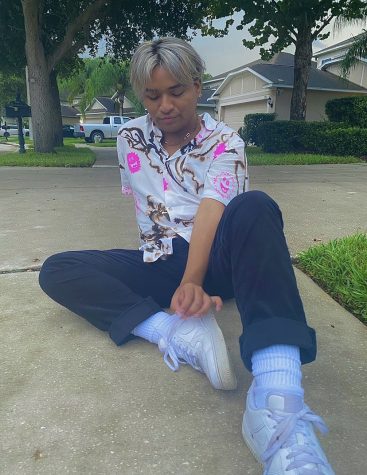 He also says, "Time away from the normal routine allowed me to spend a lot of time actively trying to develop my style and become more comfortable in it…From experience, being away from my friends and family members left me in a dark place. Along with fashion, they were the things I go to when I need to express myself and when I wasn't around the people that inspired me most, I turned to fashion." The past few months have almost been like an experiment for many people, finding ways to grow into their own skin and become the best versions of themselves. Due to social media, it was apparent that just because we can't be out and about doesn't mean we can't put ourselves out there. Trends came and went like normal and helped people reinvent themselves. It is so important that we all learn individuality at some point and High School is a great place to start, it is all about experimenting and finding out who you really are and want to be and this time off has given us an opportunity to do so before entering High School again.
"What we choose to wear is just an extension of who we are." When asked how style impacts our lives, Alfonso says, "It exists in our style of writing, our style of speaking, or in the way we walk." I think that is the best part of finding your own style, it doesn't have to be permanent, it could change everyday if you really wanted it to. There are so many different directions to go with and you should never take it seriously because it changes every single day.
Alfonso's advice for anyone, whether you're wanting a fresh start or haven't found your own style yet is "If you ever ask yourself "Is this too much?" or doubt yourself, always go through with it. It'll change you."