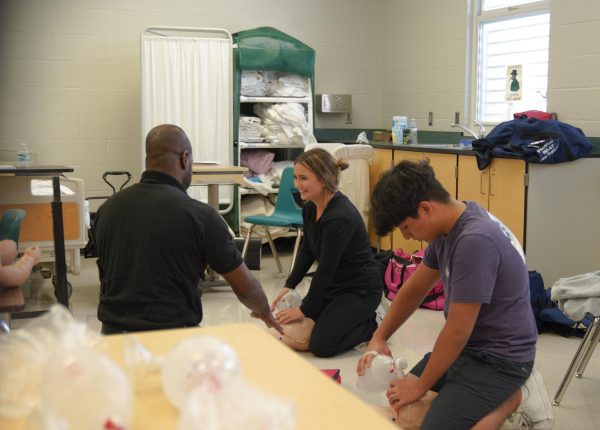 The CNA (Clinical Nursing Assistant) program here at Sunlake prepares students for a future career in healthcare. With hands-on experience, lectures from those already in the field, and hospital training opportunities, the program has caught the eye of many driven Seahawks. One of these students is senior Alexis Mitchell, an aspiring RN with hopes to become a doctor someday. Alexis says she chose to be a part of this program because "..it has always been important to me to help people…" which transitioned quickly into the dream of becoming a nurse. This was not a recent development, but rather a simmering passion that she said spurred her to work hard "…since 8th grade just to get into this program."
Not every school has this option, so Alexis feels extremely grateful at how much this will expedite her career. Although she is nervous for the CNA certification test at the end of the year, she knows "…we will all pass and get our CNA license." Then, she can "…work as one in the hospital while I pursue a RN license and work towards my BSN degree." Most recently, the CNA students participated in CPR training. The American Heart Association visited Sunlake and facilitated this event where the students learned CPR for babies, adults, and training for the use of EpiPens. As a continuation of her excitement about the hands-on experience, Alexis was glad they got to practice with physical demonstration of these skills before taking the test. They, as in the CNA students, are all now certified in CPR.
Alexis is carrying these skills outside the classroom and currently interns "…in the Trauma and ER Unit at St. Joseph's Main Hospital." She cheerfully shared, "I love it so much." It might be crazy to think about it now but this time next year the Sunlake-trained CNAs in the Class of 2024 will be out in the world. They will be doing what they do best: helping others.