On the Bright Side – Rylee Adkinson
Due to the strange and unexpected events that have unfolded in the year 2020, many of our students school experiences have been greatly affected. For many, this summer did not go how our classmates expected it to go. When asked about how this summer was new to her, a senior at Sunlake High School, Rylee Adkinson, said " This summer did not go how I planned it to go. Remembering to bring a mask everywhere I went and avoid touching my face was very tedious and something that I never before had to worry about in the past." It has been tough to alter our lifestyles and sit back as wearing a mask in public became the new norm. Many plans and family traditions even ended up getting cancelled due to COVID-19 as it was unsafe to travel because of the potential risk of contracting and spreading the virus to more people. Adkinson stated, "I was supposed to go up to Georgia for the summer to visit my grandpa, however the trip had to be cancelled because my family was afraid to travel and possibly expose my grandpa to a virus that was harshly affecting the older population." To many people, this was the case this summer. Visits to family members were restricted as the safety of them as well as others was the number one priority. When asked if she believes if she has significantly changed this summer, Adkinson replied with, "Over the Summer, I have grown more confident in myself and have finally found how I'm supposed to contribute to this world.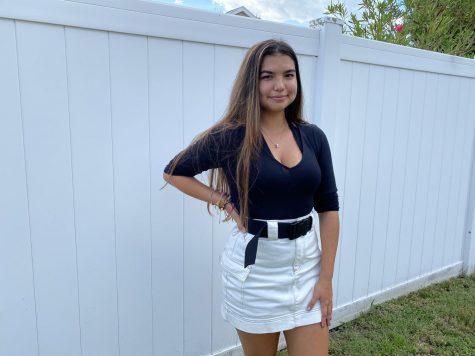 With so much free time and no where to go, many took the opportunity to get to know themselves and become the person they always wished to be. "I used my free time to become more politically informed and become a more active member in my community." said Adkinson.
Although this summer may not have went how everyone imagined it to, Adkinson did not let the virus ruin her summer as she became a co-founder of The Giving Garden Organization and she spent her summer helping to create this non-profit organization. When asked about her summer she said, "I believe I've done a great job staying active and giving back to my community, which was the whole purpose of the giving garden. I read up on plants and how to take proper care of them in order to grow the best possible fruits and vegetables. With the help of volunteers this summer, we successfully created our first ever garden, which happens to be located right here at Sunlake." Many people found different ways to keep busy while cooped up in their homes this summer. Whether it was taking on baking, learning a new language, or creating a non-profit organization, creativity was never lacking from our Seahawks this summer.