High Aspirations – Tyler Smith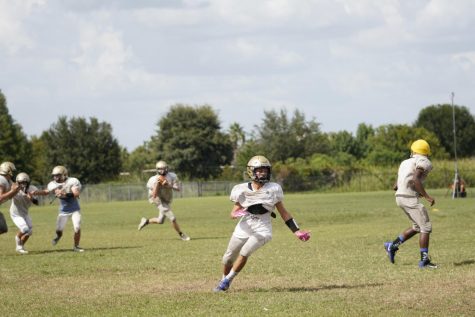 Tyler Smith is a sophomore and is on the JV and Varsity Sunlake football team. He is part of the student council and is a representative. I asked Tyler how he keeps up with school while being busy with football and his response was, " I usually get home from practice at 6:30 so then I have a few hours to do my homework and everything, so there's no time to mess around". So those few hours Tyler has to do homework and study are very crucial for him.
Tyler said his favorite part about being on the football team is being in the locker room with friends and scoring touchdowns on the field. Tyler is a hardworking student who has aspirations of playing college football. Tyler stated that if playing football in college doesn't work out then he will become a realtor or a sports announcer.  I asked Tyler what is something new about this year on the football team and he stated that "We are not as big in size, but we have a lot more talent."  Besides just football Tyler also played tennis for Sunlake last year and runs track.  He also likes to play golf. I asked Tyler what made him want to play football and he said he didn't really know, his exact words were, " I don't really know. I kind of just used to watch the sport a lot and then one day my parents signed me up because they wanted me to play a sport and I picked that one". The last question I asked Tyler was what he is trying to accomplish with football this year and  he responded with this, " I want a few varsity touchdowns cause as of right now i'm on JV and varsity so i want to score a few touchdowns on varsity and twenty touchdowns on JV".