Joy & Nicole Bouserhal – Hey, Sis!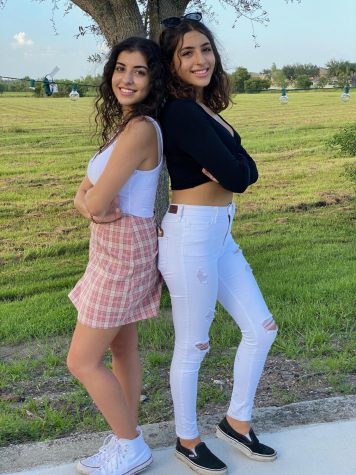 Joy and Nicole Bouserhal are both students at Sunlake High School. Many siblings dread having to deal with each other during the school year, but for this senior and sophomore duo, their close bond will help them survive the year together. Over the summer, Joy and Nicole found themselves forming new connections, spending more time together and finding new activities to participate in. When talking about finding new forms of entertainment, Joy says, "We watched plenty of movies… right before bed each night we would watch an episode of Unsolved Mysteries on Netflix," a thriller original series that would keep the girls up on some nights. Aside from binge-watching TV shows, Joy talks about how everyday they would work on a puzzle with their grandma, who was also staying in the Bouserhal household for a period of time during the summer.
For many people, this summer was nothing special due to the pandemic, but the Bouserhal's found plenty of ways to get out of the house and have some fun. Nicole says that something she cherished the most during the summer was going on car rides with her sister. She says, "If one of us had to go somewhere, we both went together for the car ride." Besides spontaneous car rides, they were able to spend the weekend on St Pete Beach on two separate occasions, as well as go shopping at the mall. In all, Nicole goes on to say, "I couldn't imagine being an only child during quarantine and not having someone to talk to in person," which hits a little close to home since I'm an only child. 
Although Joy and Nicole had a lot of great memories this past summer even with limited ideas, I also wondered if they noticed anything new that they found annoying about each other. Nicole explains that at times, "Joy always wants to be left alone and doesn't want to talk to me when I want to talk to her." The only thing Joy had to say about this statement was, "One cannot spend too much time together without wanting to kill each other" but then adds, "We disagreed on many things but established unspoken rules that we both respect." Putting aside new annoyances, the Bouserhal sisters are ready to take on this new year by each other's sides. Nicole says that, "At the end of the day, I can always count on my sister to have my back and support me even when no one else does."