In The Fast Lane – Makayla Gray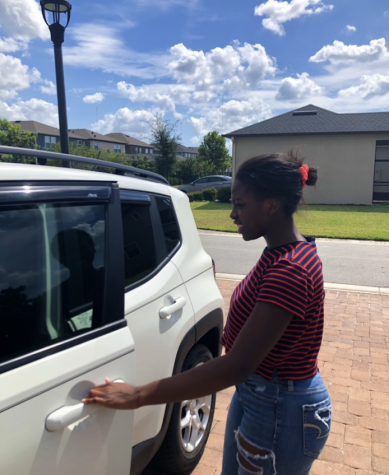 Having a car is a major part of high school, kind of like a rite of passage. Getting to drive to school to picking and painting your parking spot, it is a big milestone for high schoolers.
Makayla Gray, a senior here at Sunlake High School, shares some of her memories she's had with her car, who she named Wanda White. When asked what her favorite thing about her car was, she said, " I love that my car has two different sunroofs in it because when I take pictures in my car, I like how unique it makes my car look." I feel that most people like some individuality, especially with their cars, it helps with standing out amongst other cars that may look the same. " I also love the detailing on my car because it is very custom and unlike any Jeep Renegade I've seen." She then goes on to say, "It makes me feel special and makes it easier for people to identify my car."
Like Makayla said, having a car makes you feel special, and especially if it is unique to you. Some of your best memories can be made in the car, driving around with your friends, listening to the music you like rather than what the whole family wants to hear and even road trips. Having your own car is especially good for having me time, to get away from the stress of school or home life can be relieving, even if its just driving around in your neighborhood, or sitting in a parking lot. In Makayla's case, however, her special or memorable experience in her car was when she got pulled over the day right after her birthday. " I wouldn't consider it special in a good way," She says. "For some reason I wasn't nervous… which now looking back on it, is very surprising. Luckily I managed to leave with just a speedy warning." Makayla just celebrated Wanda White's one year birthday yesterday, the 24th of September.
Other than the perks, it is also very important to remember to drive safely, not only for yourself but others as well. Although you may know you are a safe driver, there is no guarantee that your fellow drivers will do the same. "I have had to worry about crazy drivers on the road. I have had people swerve in front of me several times and it has made me a very cautious and tentative driver." Makayla says this has led to her being told she drives "like a grandma". But it is always better to be safe than sorry.