Growing Love for Our Community
Successfully growing an abundance of beans, carrots, and beets last year, the Giving Garden has dedicated its purpose to growing food for families in need. This process can be completed thanks to the teamwork of students with their teachers and community! Upon growing crops, the Giving Garden has historically always donated the vegetables to a school-wide favorite, Mr. Taylor – who teaches AP United States History and Honors U.S. History. Mr. Taylor then generously coordinates to bring the items to his church, the Keystone Community Church, where the vegetables are then prepared into complete meals and then donated to families. In this way, the club is able to give back to the community in a complete and filling way, instead of just operating solo and giving raw crops. Starting in the school year of 2020, the club has now grown to encompass dozens of members.
This year, the Giving Garden club hosted its first meeting Friday the 7th of October; many new members joined officers to learn what the club was about and to help clean up our school's beds. Katie Phipps, a junior at Sunlake, said: "I joined Garden Club because I wanted to work with plants that are not my houseplants. Garden club also gives service hours, so it is beneficial to me and others!" The Giving Garden is purely based on voluntary work; hence, they give hours for any time dedicated by students within the garden. However, although a service club, the Giving Garden does not require any volunteer hours to participate; anyone can join at any time and start helping our community. When asked what she's most excited to potentially grow, Katie expressed, "I'm excited to grow everything. I've never grown something from the seed, I've only done maintenance of plants that are already grown. Growing something brand new will be a fun experience!" Currently, the Giving Garden club has four garden beds constructed out of wood, and many members have suggested decorating them this year to add school spirit! "A goal I have for the club is decorating the plant beds. We could take crystals and scatter them in the dirt. Using crystals like moss agate and green calcite could help the plants grow stronger, and they will look gorgeous," Katie mentioned excitedly.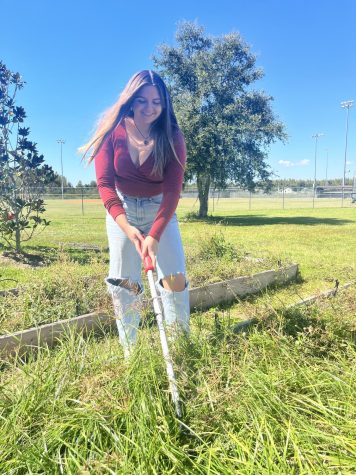 Caitlyn Crossley, a senior at Sunlake and the President of the Giving Garden club, was also very excited to start the year off with such a successful first meeting. She and other officers worked to organize a clean-up of the garden beds to pick weeds that had invested them over the summer. When asked why she joined the Giving Garden club, "I've always been interested in gardening, but I never took the initiative to start at home, because I had no clue where to start. Thankfully we have a lot of resources within the club to teach us about proper growing and harvesting methods." She enjoyed the club so much that she decided to run for President, saying "I love being able to give back to the community [by] doing one of my favorite hobbies." The Giving Garden also relates to what Caitlyn might want to pursue in the future. "I hope to study food sciences in college and I think the Giving Garden has greatly contributed to my desire to learn about the food we eat and how it's made." When asked about her ambitions for the club, Caitlyn expressed, "My biggest goal is growing large quantities of calorie-dense food that we can donate. Even though I'm a senior right now, I hope in future years we will be able to expand the size of our garden and grow even more food. The officers and I are considering growing flowers at the beginning of the New Year (when it's too cold for most vegetables to grow) and selling them for Valentine's Day as a means of fundraising."
Like Caitlyn, if a student doesn't know where to start but wants to try, simply joining the Giving Garden could put them on track. She said that someone doesn't have to have a 'green thumb' to participate in Garden club. "I think anybody can become a gardener, and everyone is welcome to join our club too. There are so many aspects of this club that even if you didn't want to physically plant seeds, you could still participate in a variety of ways." The Giving Garden is one of the most unique clubs at school. This semester, Caitlyn stated that their researcher, Nora Ware, was "…looking into vegetables like squash and potatoes to grow…" in time to be harvested for Winter and Spring. "The Giving Garden has taught me patience, communication skills, and the importance of hard work," Caitlyn claimed, "I'm so thankful for this club and everything it has taught me. I think it's so rewarding being able to make food for those in need, and being able to directly see the impact of the club's hard work."