Sunlake's National Honors Society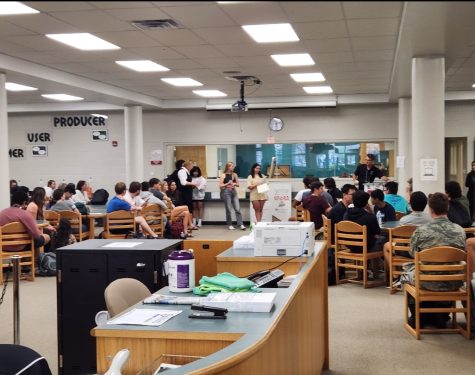 Sunlake High School's participation in National Honor Society is a great way for students who excel in many different areas to show their excellence. The program can help students looking to go into post-secondary education, as membership looks good on a transcript. In order to enroll a student must have a high enough GPA, community service hours, and may need to meet other requirements.
Hailey Stricker, a student who attends National Honor Society meetings, explained a project that Sunlake's National Honor Society group took on this year – a blood drive. In order to promote the event, Hailey explained that members would talk to students during lunch periods and others would go pick students up from their classes to draw blood.
Hailey explained how the National Honor Society meetings are quite large.  She also explained what it's like attending National Honor Society meetings, saying "Its sometimes a little chaotic – there is a lot of people talking." She did, however, explain that "They will get everyone to settle down eventually and give us information."
When asked, Hailey explained how those who were offered a spot in National Honor Society but decided not to join "made their choice." further explaining "Some people are not really interested in joining… its everyone's choice and it can be time consuming."
While National Honor Society does have some exclusivity to it (due to the admission requirements), it can be an important tool for students looking for further education after high school. Becoming a member is just another positive aspect a student can put on their transcript while helping out the community in the process.