Walking in a Winter Wonderland
Christmas is a time of joy, gratitude, and spending time with loved ones. Our Seahawks enjoyed taking time off of school to celebrate Christmas and travel to visit family and friends. Each family celebrates this special day in different ways. For some, it can be about gathering loved ones and giving gifts to show gratitude. The famous holiday tells the story of Santa Claus, or Saint Nicholas, who travels to every home to deliver presents to children. Others commemorate the birth of Jesus Christ and its special purpose in the Christian faith. All in all, it can be a special season of festivities and joy for everyone. Many of our students traveled around the country and participated in merry activities. Addison Barningham, a sophomore at Sunlake, had the chance to visit family in Idaho. "Christmas was cold! There was over 3 inches of snow" explained Addison, far from Florida's sunny weather.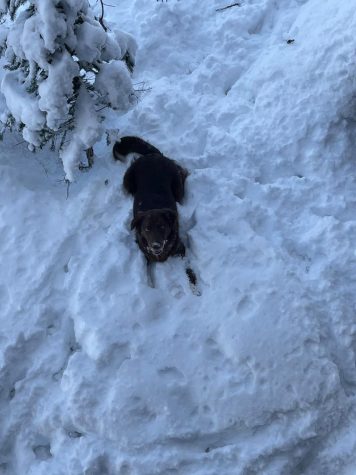 She had the chance to snowmobile which "was awesome, but really cold!" Snowmobiling travels over ice and snow using a motor-driven vehicle. She also "went to the botanical gardens" to see the Christmas lights and decorations. Christmas is the perfect time of year to make memories with loved ones. Sophomore Makayla Edwards had the chance to visit her father and his family in Ohio. Her favorite part of the trip was "probably just seeing my Dad but then we also went skating and just hanging our with all my family."
There are many diverse activities for celebrating Christmas and each family does so differently. Makayla visited an art museum where she "read about different histories of different paintings," which was a cool experience for her since she's never been to an art museum before. She also saw snow after going to a skating rink.
Kate Hoffman, a junior, traveled to Athens, Georgia to visit the University of Georgia campus and watch a UGA men's basketball game. "In Athens, we saw a big Christmas tree outside of city hall and then my family spent the rest of the night walking around looking at Christmas lights," explained Kate.
Her family also went to the Georgia Aquarium in Atlanta, Georgia. Kate shared that "it's the only aquarium in the United States with whale sharks," one of the largest fish in the ocean. Overall, she "had a great Christmas and I [sic] loved spending time with my family and playing with my cousins," who joined them on the trip.
Our students enjoyed heartfelt experiences with family and friends during the Christmas season.