Freshman Tennis Pro
Many students at Sunlake High School have interesting hobbies. From art, to soccer, to performing there are countless activities that students do to have fun outside of the stresses of school. Freshman Kayla Rivera plays tennis and has been playing for two years. She is currently playing for the Sunlake tennis team and had a match just recently where she played doubles with fellow freshman, Sadey Mathis.
"Since I am a freshman I will play on the SLHS tennis team for the rest of high school," Kayla said. "I hope to improve a lot while doing so. As for college, I am not too sure yet."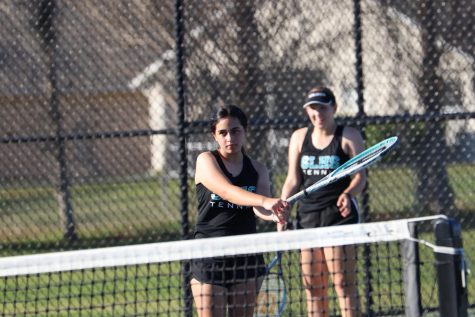 According to several websites and blogs about tennis, it is one of the hardest sports to master. The rules and scoring are simple but the hitting skills take almost a year to learn. On top of that there is the mental game which even professional tennis players still have a hard time with. It takes a lot of drive and skill to get good at tennis. The Sunlake girls' tennis team ranks girls based on performance. The top five play in matches while the others continue practicing. Kayla hopes to continue improving her skills through high school and with lots of practice she will continue to improve.