Livs Valentine Special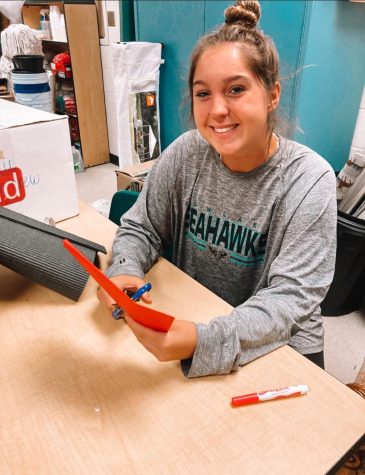 February 14th is Valentine's day. This day has many different meanings to people, such as the celebration of romance and love. Valentine's day has become a significant cultural and commercial celebration of romance and love in many regions of the world. Especially here at Sunlake High School Valentine's Day is a holiday when our love bird Seahawks express their affection with greetings and gifts. Here we have a student at Sunlake High School who is part of the Student Council, Olivia Moore. Since Liv is a part of STUCO, she goes all out every year for any particular event during the holidays to make sure every student can have a memorable experience, especially Valentine's day.
STUCO had been preparing for Valentine's Day for quite some time now and planned to present a flower gram stand during lunch for our Seahawks to buy a flower with a cute little note that they can write to express their love and affection to anyone, such as a significant other or to a friend or even a teacher to make their day. After a month of selling flower grams, our STUCO has received many favorite memories from the preparations. Olivia Moore says, "My favorite memory from flower grams was when we were making all the bouquets and doing the note cards for everyone who had a note attached to them and seeing how much these people care for their friends and their loved ones."
Suddenly, Sunlake comes up on the big day: "02/14" the National Day of Love. Each member of STUCO came together throughout the school day and take turns through each period to deliver the flower grams to each student individually. Liv was accompanied by Samuel Chacon and took turns throughout 3rd period by helping to go to each student's classroom and deliver each flower and to bring love and affection to everyone. Liv had said, "I love doing flower grams. There is always a fun event we do here at Sunlake. My favorite part was giving them out to the people and seeing their reactions with such happiness and joy on their faces." Last year, they handed out around 150 flowers orders, but this year they handed out around 250 flowers and bought 300 flowers.