Mia Young is ready to put her spin on the 2024 yearbook! Mia is a sophomore with a love for digital design. She informs us that she joined yearbook because "…it always seemed like a really fun environment to be a part of…" and that she has had aspirations to participate in yearbook since her freshman year. She hopes that being a part of yearbook will improve her journalism and social skills, and that she will be able to show her aptitude for design by creating page layouts. Mia explains, "I'm hoping to pursue a career in digital design and I know this class will hone in my skills and allow me to become the best I can be." Mia aims to be one of the editors for the yearbook in her next two years at Sunlake and knows she can accomplish this goal if she "…completes all of her assignments and listens to what previous staff members have to say."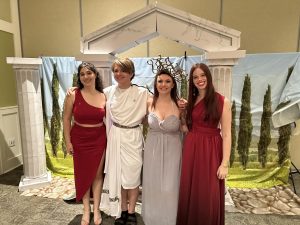 Mia is the publicity manager of the Drama Club, and she would love to write stories about Drama Club members to get them seen in the yearbook and by Sunlake as a whole. She speaks about her love of Drama Club by stating, "I've met some of my best friends in Drama Club. I really love all of the events and the performances that we get to do." She has been a part of Drama Club since she was a freshman and hopes to be a part of it for the rest of her time at Sunlake. Mia also loves art. She is in a 2D art class right now, which she says is her favorite class. She is planning on becoming a part of the National Art Honor Society (NAHS) this year.
Mia is a member of a pretty big family. She is the oldest of three children: ages 12, 7, and 2. She also has a dog named Freddy, who is an Australian Shepherd. Mia tells us that she's part of "…a very creative family." Her dad loves painting! He is very skilled with oil paints. Mia's sister uses a variety of different materials to make creative masterpieces. As Mia is a very creative person from a very creative family, it will be great to see all the amazing ways she can contribute to the yearbook!