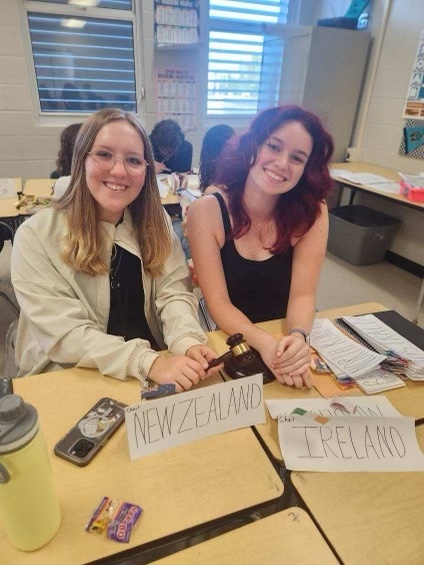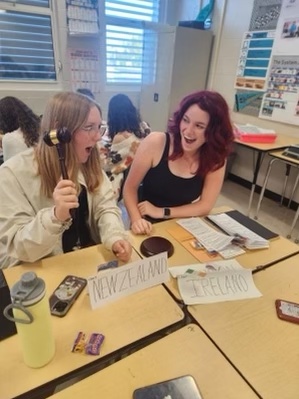 Sophomore Sadey Mathis is the Vice President of Model UN at Sunlake, a position she cherishes. Sadey worked with a fellow sophomore, Sarah Cummings, to reestablish the club after what she says was "…a long hiatus of it not being offered at Sunlake." She was strongly motivated to take these steps because of how deeply she resonates with current events. Instead of just viewing them from the sideline, she yearned for a place where she could discuss "…current world issues with people who really care about it and want to talk about ways they can help." When she realized that place wasn't currently available at Sunlake, she decided to make her own.
This determination has created a welcoming environment, reflected at their most recent meeting. The members come together on a regular basis and Sadey enthusiastically describes that there are lots of "…great discussions and world views being shared." Their last meeting was a research day. For Model UN, Sadey says this means a time for them "…to find information about our upcoming topic." More specifically, Sadey explained that members "… researched each represented countries' policies on war, foreign treaties and affairs, and ways each represented country can realistically assist states in foreign disputes based on their beliefs and alliances." 
Model UN has been a formative experience for Sadey that she expects to continue for the remainder of her high school years. Looking backward for a brief reflection on her progress though, she is happy to discuss her favorite part of the club: debating. Sadey states that "…it is a lot of fun talking about real problems and talking with people who truly care about them." With approximately thirty-five members involved currently, Model UN is a thriving club at Sunlake. Sadey is excited to see how the safe place her team has created continues to grow.