A Monopoly on Soaring Sound
Last Friday night, our Soaring Sound took to the field to perform their show, Monopoly. It was a spectacular display of music from the band and captivating tricks and theatrical flair from the guard.
Ainsley Reed, a senior, is one of our schools band members found in front ensemble. She has been in Band for "…seven years" and she "…play[s] the marimba." She chose to join the front ensemble portion of the band because she was drawn to "…the beauty of the mallet instruments and their sound." For the fall show this year, the band decided to take on the lens of greed for their show. In doing so, our Band and Color Guard directors decided to portray the show through the perspective of Monopoly. Ainsley explains that the show "…is based off the board game… and represents greed and how money isn't everything."  Songs such as Money by Pink Floyd are played by the band and utilized to portray this idea of greed. "It really is a cool concept," Ainsley said.
Following Friends and Family Night, Soaring Sound had their very first competition that Saturday. "The show on Saturday [went] how I expected. My performance was the best that it could be and I was very happy with the score my section and also band program received," Ainsley said.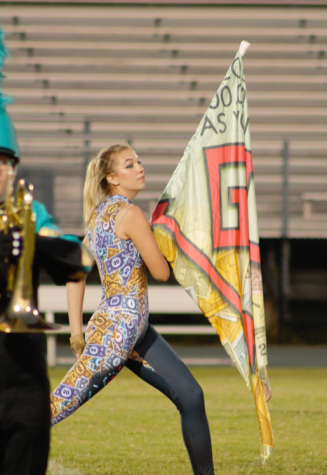 On the Color Guard perspective of things is Katie Phipps, a junior. She's "…been in Guard since the end of my [sic] freshman year" and chose to join "…because it sounded fun!" When asked about the theme of the show—the portrayal of greed through the game Monopoly— she exclaimed that she thought "…the theme is cute and original." Katie really liked how their performance went for Friends and Family Night, and she loves how the show is finally coming together after many long rehearsals and much preparation. "Our show so far is amazing!" Katie said.
For Saturday's competition, Katie explained the long, grueling day ahead of Guard. "On a typical performance day, I wake up and head to Sunlake. We do a one to two hour morning rehearsal on the field and then we go into the band room to begin getting ready for our performance." After all of this, the day continues on, leading into the competition aspect. "….We all get on the bus to head to our performance. Once we are at our competition, we go to our warm up area and stretch… We go on to perform, and once awards are completed we head back to Sunlake." Katie said "the performance went really well" that day and that Sunlake's Soaring Sound "…placed third overall."