Sunlake's Swimming Seahawks Take On Regionals
In the early morning of Friday, October 28th, Sunlake's swim team made their way to Clearwater for their Regional's meet. There they competed against other schools in Pasco County, as well as those in other districts. In the parking lot of The Long Center, there were rows and rows of students in camp chairs and under tents for shade, where they would stay until the meet began, and would return to for rest in between their events. At Sunlake's tent, music was playing and laughter was abundant as the swimmers took breaks to eat, get temporary tattoos, and just relax.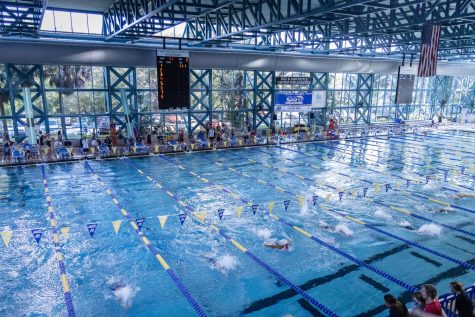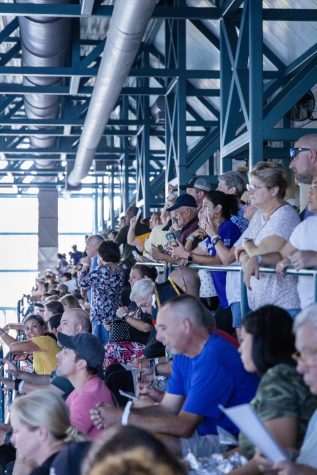 Around the pool, there was loud cheering from friends and families, who were able to take in the whole scene from their bird's eye view in the stands. At one end of the pool stood fellow swimmers and a few students, screaming to their friends in the water words of encouragement and direction. All the noise and excitement made the meet fun for everyone able to attend, whether you were in the water, or out. Makayla Edwards, a Sunlake sophomore, was able to travel to the event for some photography practice and watch the meet. She reflected on her trip, saying, "the atmosphere of the swimming was more so exciting, but also kind of like anxious. A lot of the different swimmers were there and they all did so good! Everyone was trying their best to win, and there was a good atmosphere between the team, each person watching their teammates compete. They were all very happy, even if they may not have won. I love watching Sunlake compete because I know the people that were competing, and I loved watching them in their best element-swimming, and doing what they love. They were so great and I'm so proud of all of them." Junior Katie Madley swam for Sunlake, and did a fantastic job! She agrees with Makayla, saying that "the meet was very lively! Everyone was cheering for each other and putting in their best effort for their events."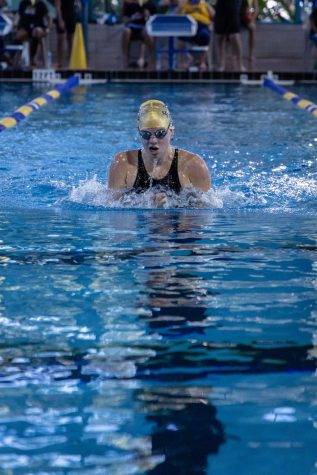 Katie recounted her experience: "Before the swim meet, I was feeling a bit nervous, but I was excited to swim my events! To prepare for the meet, my club swim coach put me on a taper, which is essentially when we swim a specific practice set that's supposed to increase our energy and prepare us for big meets. The night before, my club team did some visualizations as well. I swam in the 200 IM, 200 freestyle relay, and the 100 breaststroke; One of my accomplishments during the meet was dropping 5 seconds on my 200 IM," which stands for individual medley, and is an event where she had to compete in four strokes (butterfly, backstroke, breaststroke, and freestyle) all in one race! "After the meet, I was honestly excited it was over," she continues. "I needed to lay down and take a nap so I could accomplish what I had left in my day." Later Katie adds, "Sunlake as a whole did amazing! The girls got 2nd out of 22 teams and the boys got 3rd out of 22 teams. A few of our swimmers will be advancing to states. Our team always does an amazing job of supporting each other and checking up on each other."  And that helped make their success possible!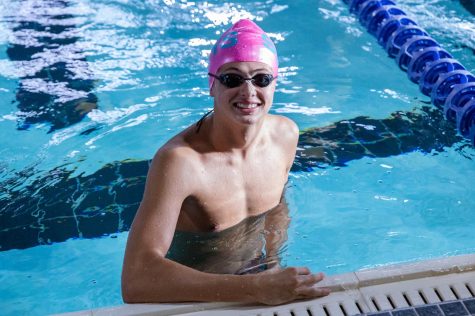 Junior Cayden DeTillio "was feeling pretty good about the meet. We started tapering at practice and I had my family, grandparents, and girlfriend watching. I also stopped lifting weights the week of districts, ate and slept better, and overall tried to be less stressed throughout the week". Reiterating what those before his had commented, he said that "the meet's atmosphere was very energetic. Everyone was hyped to swim and it's a nice pool. Being in the faster heats and in relays, there was always a huge crowd cheering and roars from the crowds". Cayden participated in the 50 back in the 200 medley relay, and did the 200 freestyle, 100 backstroke and was in the 400 free relay. "I dropped 2 seconds in my 200 free (1.50) and went barely sub 50 seconds for my 100 free in the 400 free relay (I went 49.99). I swam my backstroke events on par with my best times. I felt really good. I performed well, my teammates performed well, and afterwards I ate out for lunch and went home to chill with my girlfriend for the rest of the day. And my team was very supportive. We'd be by the lanes or in the bleachers watching each other while they swam". Additionally he remarked that "the coaches were amazing. Guerby and Karen were very supportive and also gave good feedback. Also shoutout to my Jazzy!" Cayden was one of the 10 people that progressed to the state level!
Congratulations to those who participated in regionals, and especially to those who accomplished something new, those who went to states, and those who just had fun! Because the season is over after states, you can come out next year to support this amazing swim team at their fun, energetic meets! And don't be surprised when you see them celebrate their teammates' achievements together, almost like a family.