Sunlake cross country hasn't lost a Conference championship in six years. This year, they were ready to defend their title.
Katelin Wilcox is a freshman on varsity who has been making huge contributions to Sunlake's cross country team all season. She's been extremely successful, setting the freshman school record in the 5k with a time of 19:01 and placing in the top three on her team in every race. She is currently the eighth fastest freshman in the state. Katelin explains, "I love running and the feeling that running gives me. It relaxes me and makes me happy. I've been running most of my life. I did small track meets when I was little and started competitive cross country in fourth grade. Now I'm running for Sunlake, and I really enjoy it. " Katelin loves her new teammates and being able to compete at a new level, with some more competition.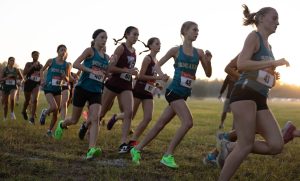 Going into the Conference meet, Katelin was "…excited, because I knew our team had a good chance at winning." When she got on the starting line, she "…felt jittery and excited to race. When the gun went off and I started running, I felt really good. I actually felt really good throughout the whole race. I loved the course." Something Katelin really loves about cross country is "… how unpredictable it is. At each meet the course is different and you never know what to expect with the competition." The Conference course was in the middle of Withlacoochee River Park, which is filled with beautiful views and wildlife. Katelin thought the course was pretty and interesting, but she also admits that all the twists and turns made it challenging. She says, "It was a little hard to stay focused. There wasn't a lot of people nearby, and it was easy to lose sight of other runners during the turns because we were all so spread out." However, while Katelin may have felt like the course's turns were a bit disorienting, she had a great finish.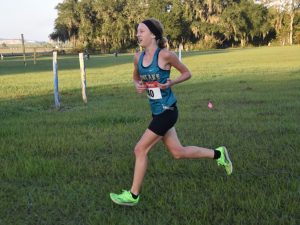 After the race, Katelin was ecstatic with her performance. She exclaims, "I think I did really good! I ran a time of 19:28, which is the third fastest time I've ran this season. I placed second in the Conference, which I was really happy about." Not only did Katelin run a fantastic race, she explained that her "…team also did amazing. Our top 5 girls all placed in the top 10. Our girls and the boys teams both won the meet." The Sunlake cross country girls and boys were able the defend their title and win their Conference Championship for the sixth year in a row!
Katelin and her team are now gearing up for the state series, and Katelin is excited to see what they're able to accomplish. She declares, "We're not done yet, and we have a lot left to do."